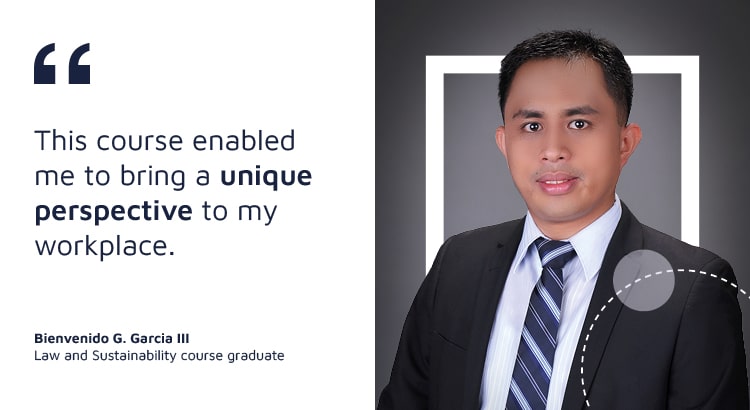 Considering taking our Law and Sustainability online short course? This is your opportunity to hear directly from one of our past students about how the programme has helped them. 
Bienvendio G. Garcia III is a Clerk of Court V at the Supreme Court of the Philippines. Here, he tells us about his experience on the programme, from the reasons why he chose to study online to how it has impacted his career so far. 
Why did you choose to study this course?
Studying this course provided me with additional knowledge and skills that complement my legal background. It enabled me to better understand and navigate the legal complexities surrounding environmental and sustainability issues in my country, the Philippines. This expanded expertise has certainly enhanced my ability to handle cases or legal matters involving environmental regulations, climate change, natural resource management, and sustainable development.
I have gained a deeper understanding of the interplay of environmental law, international treaties, and legal frameworks related to sustainability, allowing me to provide informed legal opinions and giving me the opportunity to contribute to the development of policies in this field. 
Why did you choose to study online?
Online learning provided me with flexibility in terms of when and where I can study. I was able to access the course materials and lectures at my convenience, allowing me to balance my studies with other personal or professional commitments. This flexibility is particularly beneficial because I was working full-time in the Philippines, as it enabled me to pursue further education without having to disrupt my work schedule.
Engaging in online discussions, group projects, and forums provided opportunities to network, exchange ideas, and collaborate with individuals who share the same interests in law and sustainability. This networking has led to valuable professional connections and potential collaborations in the future.
Online courses typically offer self-paced learning options, allowing you to progress through the course materials at your own speed. This flexibility enables you to allocate more time to challenging topics or dedicate additional effort to assignments when needed. It also allows you to accelerate your learning if you find certain subjects more familiar or easier to grasp.
Lastly, the cost-effectiveness of an online course makes it an attractive option, particularly when I am seeking higher education while managing my financial considerations. 
What was your favourite module, and why?
Systemic Lawyering in terms of law and sustainability offers a unique approach that goes beyond traditional legal practice. It embraces a holistic perspective, employs systems thinking, fosters collaboration, seeks policy and law reform, promotes structural change, requires interdisciplinary expertise, and aims for long-term impact. By adopting this approach, lawyers can play a vital role in addressing the systemic challenges that contribute to environmental degradation and advancing sustainable development. 
How did you find the support you received?
The support was great throughout. 
What impact has this course had on your career?
Studying this course has enabled me to bring a unique perspective to my workplace, especially when dealing with cases that have environmental or sustainability implications. Furthermore, this course has propelled me to be a leader at the intersection of law and environmental sustainability. My background as a lawyer, combined with learnings on this course, assists me in contributing to the local and national dialogues on environmental issues. As a result, I have engaged in discussions, participated in policy development, and provided insights on legal matters related to sustainability.
Overall, this course was a treat that I thoroughly enjoyed and will be an integral part of any policy-making endeavor I will undertake in the future. 
What advice would you give to others considering studying an online course with the Oxford Smith School?
Take the plunge and go for it! I have enjoyed this course thoroughly, the interactions with my peers were a delight and it provided me with an outlet to further enhance one of my chosen legal advocacies.